Khris Berry
Khris Berry has been involved in the Pet Services industry since the early 1990's. She has owned grooming shops, boarding kennels, and obedience training schools and is a Certified AKC Canine Good Citizen Evaluator. She is the co-founder of See Spot Grooming & Daycare which currently operates 3 locations in 2 states. Her vision has led her to create a Groomer - centric company which provides education, a positive work atmosphere, and benefits for all Spots. She owns and competes in a variety of events with Wirehaired Vizslas including dock diving and obedience.
Jennifer Bishop-Jenkins, ICMG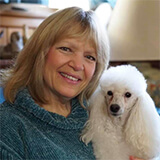 Jennifer Bishop-Jenkins, ICMG, is the owner and Master Groomer at Love Fur Dogs in Glencoe, Illinois. Named by the Chicago Tribune as the "Best Groomer in Chicagoland", Jennifer can be seen this fall 2018 on the Hulu Network national television program Small Business Revolution (Season Three) as a Grooming Expert. Jennifer founded the Illinois Professional Pet Groomers Association and has been grooming, breeding, and showing various breeds of dogs and cats for four decades. She authored several published articles on various grooming issues, and has an award-winning blog. Jennifer was one of the first generation of "CMGs" but spent most of her career as a professional educator teaching high school, college, and also in vocational grooming schools. Jennifer and husband Bill are nationally prominent victim advocates, and love the fun they have showing their newest Grand Champion Miniature Poodle "Bowie".
Dave Campanella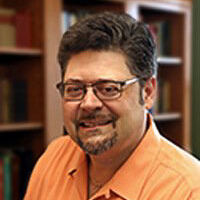 Dave Campanella is an informative and entertaining seminar speaker, contributing trade columnist and genuine grooming enthusiast. He is Best Shot Pet Products sales and marketing director and has over 25 years of pet industry knowledge and experience. He and his wife Tracy co-owned a full service pet salon and self-wash in Ohio prior to relocating with Best Shot to Kentucky. Together they enjoy exhibiting at grooming shows, being industry ambassadors and showing their Kerry Blue Terrier and Samoyed dogs.
Jonathan David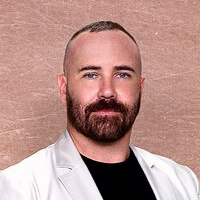 Jonathan David has been the recipient of multiple scissoring awards, multiple Best All Around Groomer awards and Best in Show earning him a position on Groomteam USA in 2008 and 2009. Jonathan was also a contestant on Animal Planets "Groomer Has It" and has been featured as a grooming expert on multiple television shows. Currently, Jonathan owns and operates his salon, Lap of Luxury Dog Spa in Delray Beach Florida and is a board member of multiple dog clubs.
Teri DiMarino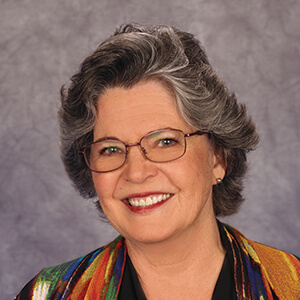 An industry veteran, Teri has owned and operated successful salons and mobiles in Florida and California. A winning grooming contest competitor, Teri was a member of three groomteam USA Gold Medal teams. A multiple Barkleigh Honors and Cardinal Crystal Award winner, Teri is a regular columnist for Groomer to Groomer Magazine as well as a popular speaker and judge at seminars and trade shows across the United States, Canada, Europe, South America, Korea, Australia and New Zealand.
Kathryn Dixon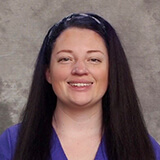 Kathryn Dixon, a Nationally Certified Master Groomer, has been involved in the grooming industry since 2006. She owns and operates The Houndstooth LLC, a mobile pet spa fleet which services the majority of Rhode Island. She is an active competitor in grooming competitions across the country, holding multiple placements in Hand Stripping, Sporting, and All Other Pure-Bred classes. In her free time Kathryn trains in Canine Scent Work and has earned titles on two of her dogs. She is also a Veteran of the United States Marine Corps, having served 6 years as an intelligence analyst and translator of Afghan languages.
Angela Kumpe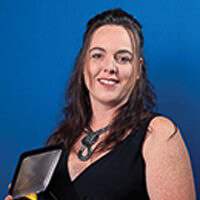 Internationally renowned creative stylist and instructor, Angela Kumpe has more placements in creative styling than anyone, worldwide. She won the first ever Barkleigh Honors Award for Creative Competitor. She is the author of A Creative Collection, a step-by-step guide to creative styling. Angela's work has been featured on Animal Planet, TLC, The Today Show, Regis and Kelly, and ABC Nightline as well as in The New York Times and on the cover of Groomer to Groomer magazine. Angela is the owner of Angela's Grooming and Pet Spa in Little Rock, Arkansas.
Lara Latshaw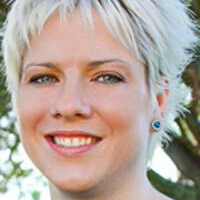 Lara Latshaw is a NCMG, Pet Tech CPR/First Aid Instructor and open level competitor. She has been grooming for over 18 years and opened her own salon in 2013. Prior to that she worked as Chief Grooming Officer for Hydrodog in Tampa, FL where she gained a tremendous amount of customer service and marketing education. Lara's salon, Gordon's Grooming, recently expanded into a new location, going from 192 sq feet to 2,000 sq feet.
Shannon Moore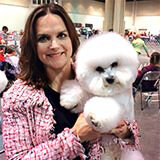 Shannon Moore is a Certified Master Groomer for NDGAA as well as IPG. She owns, breeds and handles Bichon Frise's in addition to her recognition for one of the top breeders of Yorkshire Terriers. She founded and owns Pink Paw Pet Spa & Resort in Birmingham AL. Shannon is an active competitive groomer.
Joshua Morales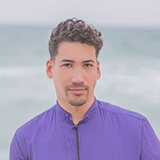 Joshua is a Master Certified Groomer with The National Dog Groomers Association Of America (NDGAA) and a Certified Member with the International Society Of Canine Cosmetologist (ISCC). Joshua Is a trend setting artist and President of The Dog Beautician Company and Founder of the Puerto Rican National Grooming Team, Grooming Team Of Puerto Rico (GTPR). A brand Ambassador for Hydra Cosmetics, Loyalty Pet Products and Liberty Star Equipment. Recently awarded the Barkleigh Honors 2017 " Up & Coming Groomer Of The Year " & recognized as 2018 " Video Of the Year " nominee. Now a Learn2groomdogs.com educator for thousands of professional Groomers worldwide. Joshua is the Co-owner of the world renowned " Päsh The Canine Boudoir " located in sunny South Florida. Joshua has become an internationally celebrated, respected and popular speaker/ educator in the Pet Grooming Industry.
Cindy Oliver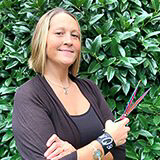 Cindy Oliver is an award-winning Pet stylist in Breed Profile and Creative Grooming. Her specialty is extreme creative styling and creative abstract design. Cindy is owner/groomer of The Rollin' Doghouse Mobile Pet Grooming in Cleveland, Tn. She has 21 years of grooming experience, and has been mobile for 12 years. She started competing in breed profile and creative in 2009.
Ashley Pacini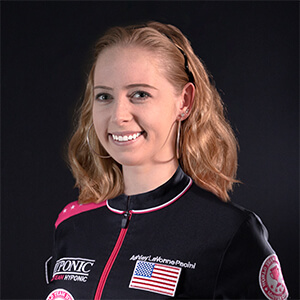 Ashley is a member of Artero USA and a groomer in Port St Lucie, FL and has been in the grooming industry since the age of 14 as both a bather and a groomer. She graduated from Merryfield School of Pet Grooming, and became a Nationally Certified Master Groomer with the NDGAA only 6 months later. Ashley is the winner of numerous grooming competition awards, including a Best in Show, jumping from lowest division to being ranked in the top 15 in just one year, and was nominated for Barkleigh Honors "Up and Coming Groomer of the Year" award for 2018.
Jill Pipino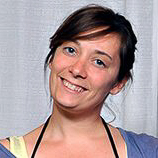 Jill Pipino started grooming in 2000. She bought a turnkey operation, turning it into a successful business offering her clients everything from daycare to spa services and personality trims to show styles. She began regularly attending seminars and trade shows at the beginning of her career, and started competing in 2007. She has been a regular in the competition circuit ever since. In an effort to further her understanding of pet styling, she has trained privately with top stylists and breeders. She also works with breeders and handlers at dog shows and is looking forward to showing her field spaniel, Brucie.
Macie Pisa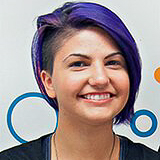 As a second-generation groomer, Macie has been immersed in the dog world her whole life. She has been grooming professionally since 2010. Macie started competing in 2014 and quickly rose to the top, becoming one of the youngest competitors in open division. In 2016 she was nominated for the Barkleigh Honors Up and Coming Groomer of the Year Award. She will continue to travel and compete nationally until she achieves her dream of making GroomTeam USA.
Susan Sholar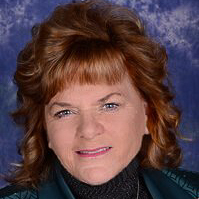 Susan has been grooming dogs and cats for over forty years and has taught grooming for fifteen years. Her first love of dogs began very young while on the television set of Rin Tin Tin and then in her teens on the set of Hogan's Heroes. Like many groomers, Susan turned a "hobby" into her life work. Her career began with showing and grooming her own dogs, progressed to showing and grooming for others as a Certified Professional Handler and, in 1997, Susan turned in her show leash for a judge's book. She now judges breeds in five groups and has judged grooming competitions. Susan is presently an AKC Delegate for the Black Russian Terrier Club of America, where she holds the office of Recording Secretary and serves as Chairman of the Judges Education Committee.
Corina Stammworthy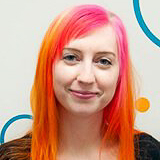 Corina stumbled into the dog grooming industry by chance, but has brought fresh eyes and new ideas. She opened The Laundromutt, a self-service dog wash and grooming salon, on the concept that washing your own dog should be easy and fun. She believes that your dog should always be in the most educated hands, and in the cleanest and calmest environment possible. Corina is a college biology instructor and is currently in graduate school for Biotechnology.
Joey Villani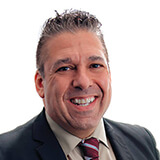 Joey had 35 years of experience under industry visionary John Nash. He trained thousands of groomers as an instructor and director of Nash schools. In 1995, he became the owner of the Nash Academy of Animal Arts, New Jersey. Joey is an IJA judge and four-time nominee for Judge of the Year. Joey has appeared on numerous television shows, including Animal Planet's Dogs 101, NBC's The Today Show, and Fox's The Morning Show with Mike and Juliet. As a judge on Animal Planet's Groomer Has It, a grooming-based reality TV show, Joey brought a technical insight to the show.